More than a few prognosticators have predicted the end of active investment management, suggesting that bottom-up fundamental security selection might be antiquated, overpriced and ineffective. The apparent proof of these theories is that asset flows into index or passive products have skyrocketed, while actively managed mutual funds have experienced net outflows for several years.
Bull market conditions have favored passive
Since the US equity market hit rock bottom at the end of the global financial crisis in March 2009, stocks have returned 331% cumulatively,[1] signifying one of the longest bull markets in history and generating strong returns for many investors. The average bull market has lasted five years, but this run is in its ninth year, and there are no imminent signs that it's coming to an end. Exhibit 1 shows the length and expansion of bull markets going back to 1932, with the current bull market bested only by the 1990–2000 expansion.
Passive managers have launched thousands of new products over the past decade in response to the inflow of investor capital. There are now more indices tracking various asset classes in the United States than there are publicly traded stocks.[2] Since January 2006, investors have put more than $1.4 trillion into passive vehicles while withdrawing $1.5 trillion from active mutual funds.[3] At the current growth rate, passive strategies would own all listed stocks by 2030.[4]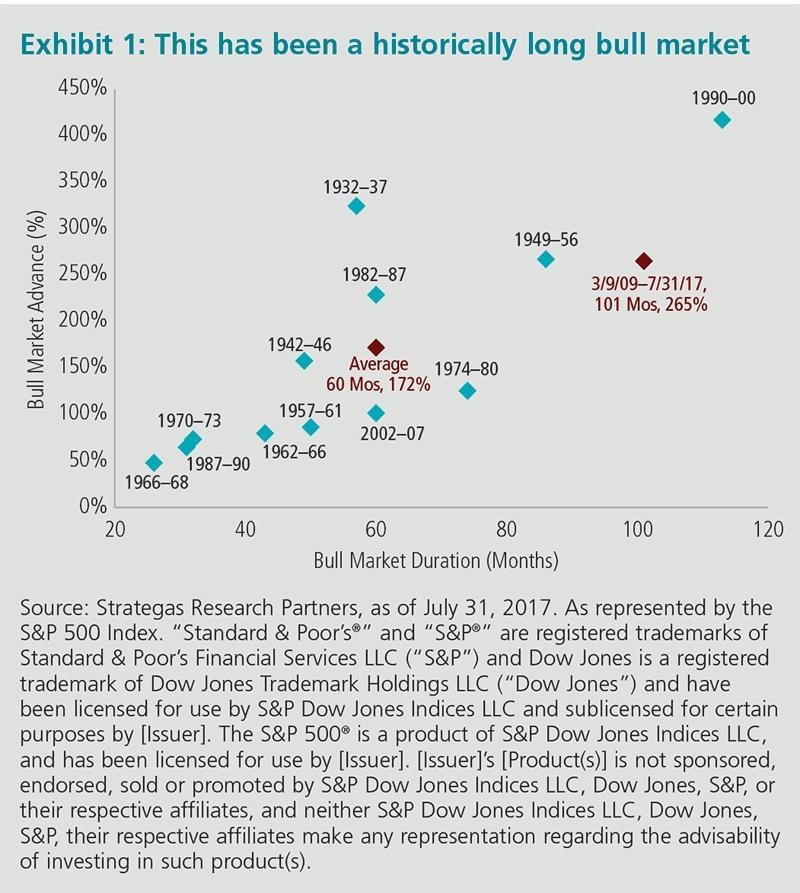 Everyone gets a trophy in these markets
Recent headwinds for active managers have included low volatility, price dispersion and a lack of differentiation between high-quality and low-quality names. Stock prices have generally risen regardless of a company's quality — the market has been handing out participation trophies — as companies have been rewarded simply for showing up. What usually happens is that a company's earnings are the essential ingredient for favorable stock prices, as investors expect the stocks of companies with positive earnings to outperform those with negative earnings over time. That is exactly what happened over the last decade — by a wide margin. The collective return of negative earners was -54.8% from 2006 to 2016, compared to a 106.6% gain for the positive earners over the same time period. But this trend has been neutralized over the past five years, as negative earners and positive earners have performed similarly (as shown in Exhibit 2). This is why the passive approach has outperformed in recent years and investors have not been rewarded for favoring one company over another. In other words, it hasn't mattered what you've owned because just owning "the market" via a passive vehicle has provided strong returns. Interestingly, that trend has reversed in 2017, with positive earners outperforming negative earners through August, as shown in the bottom chart of Exhibit 2.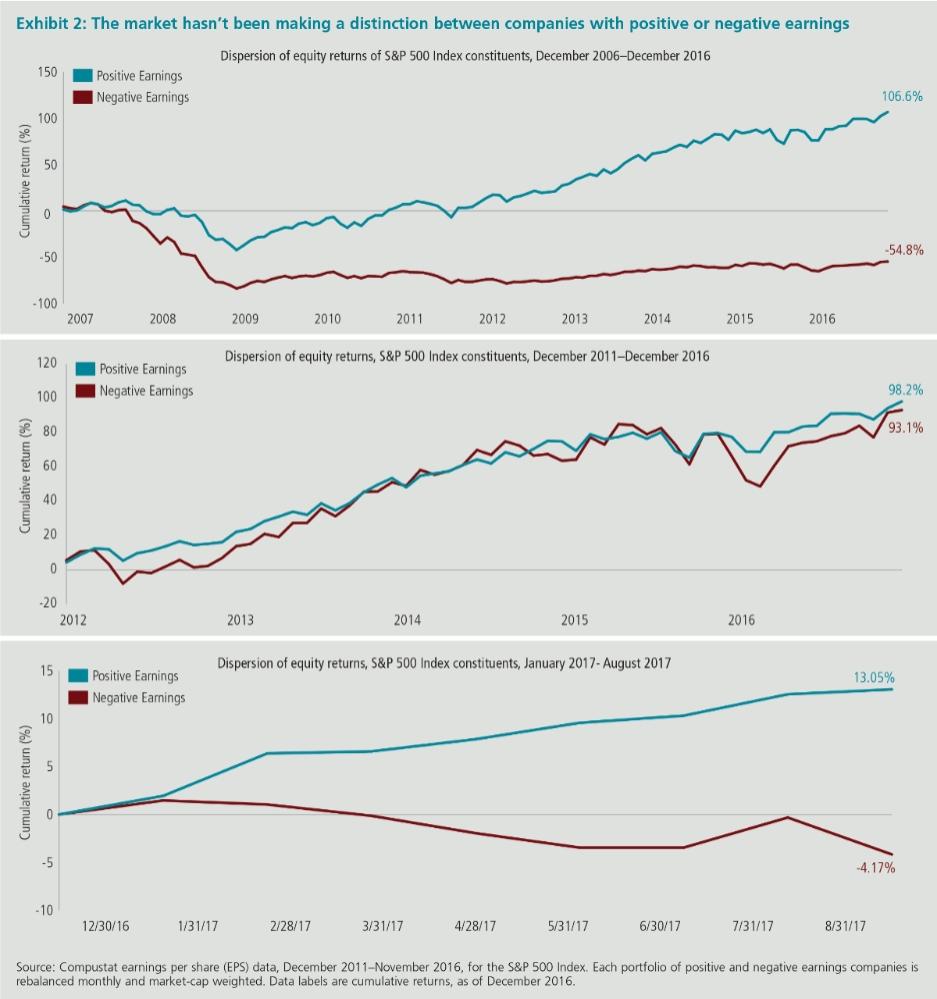 Is history repeating itself?
Businessweek predicted the "death of equities" in a 1979 cover story that detailed how some investors had replaced stock allocations with nontraditional investments such as precious metals, fine art and even Pizza Hut and Kentucky Fried Chicken franchises after a decade of lackluster returns. While the story might seem provocative to us now, there was little love for the stock market in the 1970s. Stocks were abused that decade by runaway inflation, skyrocketing oil prices and persistently low returns, among other factors. The highest-quality bonds (triple-A rated) yielded upward of 11% in the 1970s, while equities returned 5.9% on an annualized basis, far below their long-term historical average of 10.4%.[5] We're seeing similar sentiment in today's markets, but instead of disliking stocks, investors are moving away from traditional active management and into passive investing.
Hindsight is 20/20 vision
With the benefit of hindsight, we know that Businessweek's 1979 prediction about equity markets was wrong. A hypothetical $10,000 investment in the US equity market would have grown to $674,470 from August 13, 1979, to July 31, 2017, or 11.73% per year.[6] For an investor at the time, however, the choices must have seemed stark, given the challenges of massive inflation, the end of the gold standard and oil embargoes, among other things.
The same could be true of the current market with its basically uninterrupted positive flow — when the market continuously moves up, there's not much need to be selective. Having broad market exposure during bull markets can provide ample returns for many investors. Bull markets invariably end, however, which can leave investors exposed to the full ups and downs of a market. We believe that active management can help investors through full market cycles, including during periods of declines and volatility. While we've experienced a prolonged bull market, we don't think we've seen the end of market cycles.
To read more about this topic, please download When Time Is on Your Side: The Cyclical Nature of Fundamental Active Management a new white paper by Michael W. Roberge, CFA, MFS CEO, president and chief investment officer.
[1] Morningstar, total return of the S&P 500 Index, March 9, 2009–August 7, 2017.
[2] Data provided by Strategas Research Partners via Bloomberg LP and Sanford C. Bernstein, as of March 31, 2017.
[3] Strategas Research Partners, as of May 2017.
[4] "The Hidden Dangers of Passive Investing," Financial Times, May 30, 2017.
[5] Morningstar. Annualized total return of the S&P 500 Index from January 1, 1970-December 31, 1979. The S&P 500 Index measures the broad US stock market.
[6] Morningstar, using S&P 500 Index daily total return data. Past performance is no guarantee of future results. It is not possible to invest in an index.
The views expressed are those of the author and are subject to change at any time. These views are for informational purposes only and should not be relied upon as a recommendation to purchase any security or as a solicitation or investment advice from the Advisor.
This content is directed at investment professionals only.
38914.1