Expected returns are the lowest they've been for decades, as asset prices have risen across the board and market volatility remains subdued. However, investors are remarkably optimistic and are pursuing relatively high-risk strategies in the quest for returns. Income-hungry investors continue to search for yield, pushing prices of many risk assets higher. Valuations of corporate bonds, in particular, appear stretched, while quality has fallen and risks have risen.
The result is that credit markets appear "priced for perfection" in a scenario that is far from ideal. Given the host of both secular and temporary factors weighing on the global economy, and the possibility that we may be entering the latter stages of a business cycle, fixed income investing should be focused on prudent capital preservation. An investor in this market needs to preserve principal to live to fight another day. Investors should broaden their opportunity set and actively select securities with an eye toward prudent risk management in order to be adequately compensated for risk.
The business cycle is getting on in years
The current US business cycle is closing in on nine years, which makes it the second-longest bull run of the post-war era, behind only the 1989–1999 stampede. This cycle appears to be in its latter stages, based on data relating to corporate profits, cash flows, credit and merger and acquisition activity, with Europe and much of the developed world not far behind. From a historical perspective, declining corporate profits as a share of gross domestic product (GDP) have signaled the end of economic cycles and have also been a leading indicator of US recessions. Given that corporate profits have peaked during this current cycle (as shown in Exhibit 1), we think investors should proceed with caution.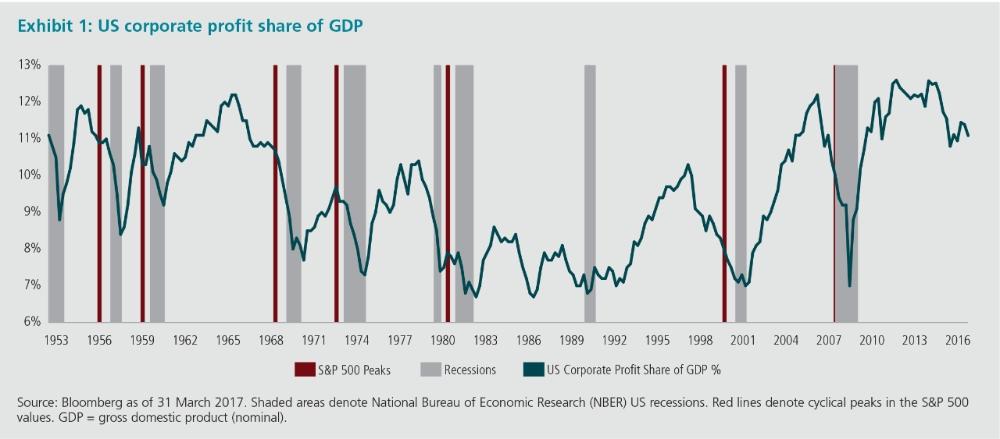 Corporate bonds appear pricey
Strong interest in corporate debt, specifically investment-grade (IG) and high-yield (HY) bonds, has evolved primarily as a result of investors' thirst to capture income. This has led to a narrowing of US corporate bond spreads — the additional yield investors demand on top of US Treasury debt — which have reached post–financial crisis lows. Credit markets appear to offer little margin for error at current spread levels, which should prompt caution.
The cycle's impact on investment-grade and high-yield credit
As the business cycle gets long in the tooth, the quality of the IG index has declined relative to a decade ago. The proportion of lower-rated/lower-quality BBB-rated bonds has steadily risen from 36% of the US Investment Grade Corporate Bond Index in mid-2007 to 49% currently. Investors appear to be chasing yield and moving down the debt quality spectrum. This risky pursuit has been triggered by growing interest rate sensitivity and the diminishing compensation of US IG bonds, given their relatively tight spread levels.
US HY credit is also fraught with risk. In contrast to IG bonds, investors are not usually rewarded when they dip down to the lower-quality segments of the HY market, because any perceived advantage tends to be offset by higher price losses. This can lead to comparable or lower average total returns because of significantly higher volatility associated with the lowest-quality segment of the HY market. HY bonds have also tended to react more like equities than low-volatility bonds in a selloff and are vulnerable to downside risk.
Focus on prudent capital preservation
Fixed income traditionally plays a pivotal role as a stabilizing influence in a diversified portfolio. This function is especially important in today's environment, where central banks are retreating from providing quantitative easing, global economies are facing sluggish growth, debt levels are elevated, many regions are experiencing adverse demographic trends and political dysfunction, dislocation is accompanying technological advancements and geopolitical tensions are rising.
Corporate credit offers opportunities, but spread compression has left valuations stretched and investors reaching down for yield. Given the low expected returns and accompanying richness of credit markets, investors should focus on preserving principal with an active investment approach. In this market, prudent capital preservation should be a top priority. We believe the opportunity cost of holding quality is low in comparison to the downside risk of an adverse credit event. Given the host of secular (temporary) factors weighing on the global economy and the possibility that we may be entering the latter stages of a business cycle, we think fixed income investors should focus on being adequately compensated for risk and preserving principal to be able to fight another day.
To read more about this topic, please download "Live to Fight Another Day: Capital Preservation Is Key in Fixed Income Today," a new white paper by William J. Adams, MFS Chief Investment Officer – Global Fixed Income, and James T. Swanson, MFS Chief Investment Strategist.
William J. Adams, CFA
Chief Investment Officer, Global Fixed Income
James T. Swanson, CFA
Chief Investment Strategist