Since we outlined our thoughts in early July on the impending shift in US Federal Reserve (the Fed) policy to gradually allow securities held on the Fed's balance sheet to mature, a bit more information has come to light. In its July statement, the Federal Open Market Committee (FOMC) said it expects to begin implementing the balance sheet normalization process relatively soon, provided the economy evolves broadly as anticipated. Previously, the committee had indicated it expected to begin implementation this year, so observers, including us, have concluded that officials are comfortable beginning implementation of the runoff in the September–October time frame. However, if bills to raise the debt ceiling and fund the US government have not been passed by late September, the FOMC could defer action until later in the fall in order to avoid inserting itself into a moment of market uncertainty.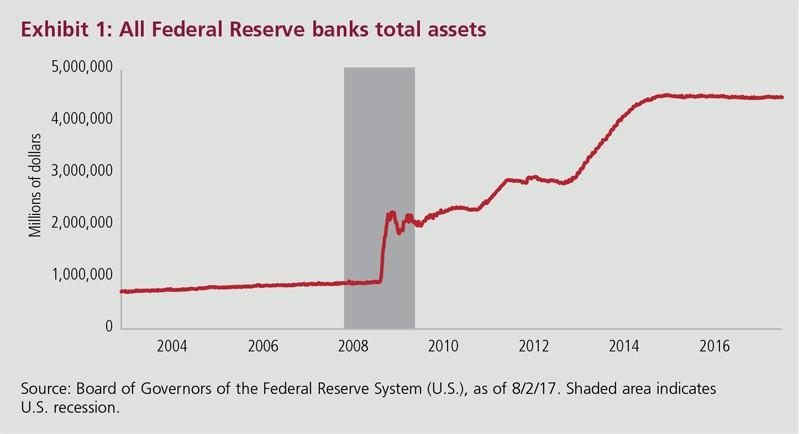 With the Fed's preferred inflation measure running well below its 2% target, the balance sheet reduction could soon play the lead role in the Fed's policy normalization efforts. Indeed, as of this writing, market pricing implies only about a 50% chance of a further 25-basis-point hike in the federal funds rate this year. Several of the more dovish members of the FOMC have called for the Fed to begin normalizing the balance sheet while pausing further hikes in the Fed Funds rate.
Financial markets have thus far taken the prospect of a shrinking balance sheet in stride. But as we're often told, past performance is no guarantee of future results. The Fed is setting sail into uncharted waters, so overconfidence that the markets will continue to react to the shift in muted fashion is to be discouraged. Since longer-term rates are historically very low, the process of unwinding the balance sheet and removing liquidity from the system could apply some upward pressure on yields. However, the long-term outlooks for both growth and inflation remain weak. The US and global economies continue to be buffeted by a variety of seemingly structural headwinds, including extraordinarily high levels of debt, unfavorable demographics and the disinflationary effects of globalization and technological advances. Consequently, we maintain the view that long rates will likely continue to be contained in a low range relative to their history.
The views expressed in this commentary are those of Erik Weisman and are subject to change at any time. These views should not be relied upon as investment advice, as securities recommendations, or as an indication of trading intent on behalf of any other MFS investment product.
This content is directed at investment professionals only.
38521.1