Authored By: Ryan E. Mullen, Peter A. Delaney & Derek W. Beane
IN BRIEF
Risk management, a top level consideration in target date fund selection, should factor in a fund's role as a single investment solution over a long horizon, as well as the potential impact of market shocks on retirement savings.
Target date fund glide paths must accommodate a wide rangeof investors, and should focus more on the appropriate allocation for the end-investor rather than a to or through approach.
Asset allocation decisions should focus on appropriate risk profiles rather than return assumptions through the glide path.
Target date funds have an important job. For many defined contribution (DC) participants, they are either a significant part of — or their entire — investment strategy. They are the default option of choice for most DC plans. And, they have to help participants arrive at retirement, not simply with money to spend but in a position to live comfortably. With assets pouring into these funds — hitting an all-time high of $69 billion net inflows in 20151 — they're playing an ever-more-vital role in participant portfolios. How can DC sponsors choose them wisely? Examine certain features carefully when you kick the tires — risk management, glide path design and asset allocation approach.
Risk management — don't go without
What's the right amount of risk for target date fund investors, who probably can't assess it on their own? Given that target date funds are meant to serve as a single investment solution over a long horizon, investment managers have very different views on how to balance market and longevity risk along the glide path. That can create real differences in design.
As retirement approaches, participant balances are typically at their highest level from cumulative contributions and, hopefully, market appreciation. Participants are less able to make up funding gaps through aggressive allocations and have less time to recover from a sharp downturn. Once they retire, their lack of income and regular withdrawals make them even more vulnerable to market downturns. That could keep them from retiring on time or living comfortably when they do.
Yet the probability of experiencing a bear market is very real for these investors. On average the bear has growled roughly once every five years. And when that happens, it hurts, as many plan participants learned during the global financial crisis of 2008–2009. How bad could it get? Exhibit 1 shows how some notable bear markets have hampered participants' ability to sustain their retirement withdrawals — a clear case for placing greater emphasis on trying to preserve assets.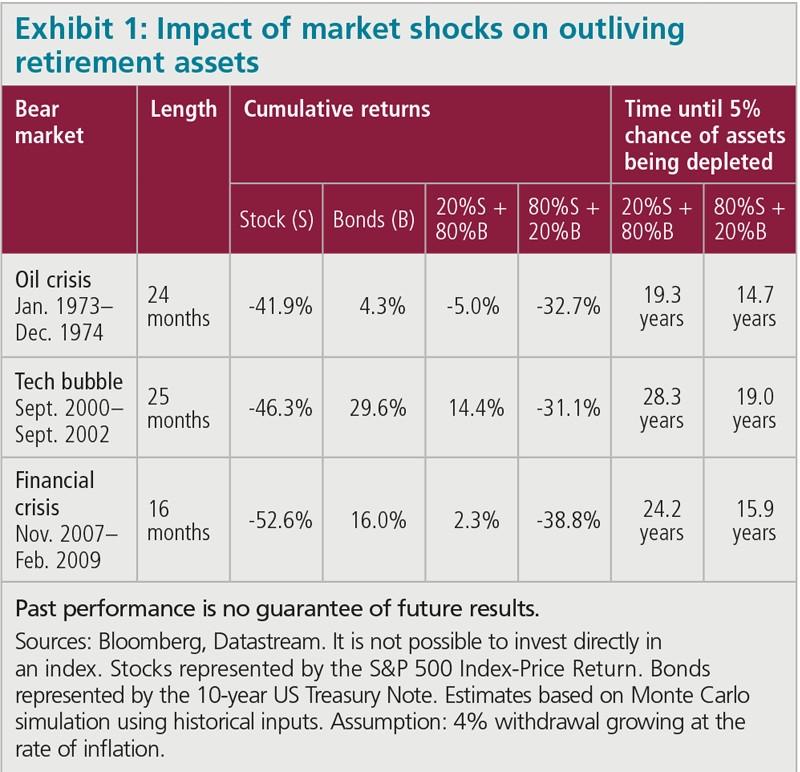 That speaks to the importance of solid risk management and transparency, which is best provided through active management. Target date funds with actively managed underlying funds that generate returns primarily through security selection can limit the potential of any one factor driving investment performance. All target date funds demand active decision making. While some have passively managed underlying funds — this does not make them passive target date funds. And those underlying funds take the same risk as the market by design, often concentrating on stocks that have appreciated the most in relative terms and can become disproportionately large and overvalued positions. After an extended bull market, investors often do not pay enough attention to the importance of strong risk management. That could significantly hurt their retirement savings when volatility resurfaces.

Glide path design — the journey and the destination
Risk management is a key consideration in glide path design. In fact, no feature should line up more thoughtfully with a participant's time horizon and risk profile than a target date fund's glide path. The glide path — a fund's plan for gradually shifting its asset allocation over time — directly affects performance through changing markets. Critically, a glide path must balance participants' need for growth with their ability to tolerate market volatility — especially in their most vulnerable years, just before and right after retirement.
What drives the shape and steepness of that glide path — that is, how quickly the fund downshifts to a more conservative allocation? While the industry standard has been to create glide paths based on assumptions about the demographics of a typical DC plan participant, that's like creating one average size shoe to fit an entire population. It's virtually impossible to define the savings habits, earnings profile and outside retirement assets of the typical DC plan participant. Glide paths must accommodate a wide range of investors. So, we think their design should involve tradeoffs between the competing objectives of growing assets early on and preserving them later in life with opportunities to outperform and a focus on controlling risk.
The way an investment manager makes those trade-offs shouldn't be about to or through retirement, but rather, the right asset allocation decisions for the end-investor. A thoughtfully allocated retirement income portfolio should still have a moderate allocation to equities. What's important to keep in mind, however, is that most participants transition their assets out of their plan and move into a period of income withdrawals within a few years of retirement. Thus a glide path that reaches its final resting spot 10–20 years past the target date implicitly creates a very aggressive portfolio for these investors.
Asset allocation — let risk be the guide
That's why it's so important for target date fund managers to focus more on appropriate risk profiles rather than return assumptions for participants throughout the glide path. Risk exposures should be consistent with time horizons and investor expectations. That could help keep participants invested over this long time horizon and better positioned to earn the returns they need to fund their retirement.
We believe that's best accomplished through strategic asset allocation (setting target allocations and employing disciplined rebalancing), rather than tactical asset allocation (attempting to generate value by adjusting allocations within a range to take advantage of anticipated market conditions). While some target date fund managers believe they can generate additional returns through tactical asset allocation, the reality is that being more tactical will change a fund's risk profile. That could mean risks and returns that don't align with participant expectations.
Why should risk drive the top-level asset allocation? Because it's more persistent than returns through different market environments. The magnitude and relative rank of asset class returns can be highly environment dependent, whereas the volatility of asset class returns (risk) has tended to be more stable through time. Looking at Exhibit 2, which shows the risk and return profiles of fixed income, US equities, non-US equities, REITs and commodities (with return on the left side and risk on the right side for each asset class), we see that asset class risk has greater relative stability compared to asset class returns.
Keeping in mind the importance of risk as a topline consideration for target date fund management, certain aspects of the underlying fund choices could also drive better participant outcomes. In actively managed underlying funds, the choice to avoid the most volatile stocks and instead own higher-quality, less volatile stocks could help mitigate some of the risk.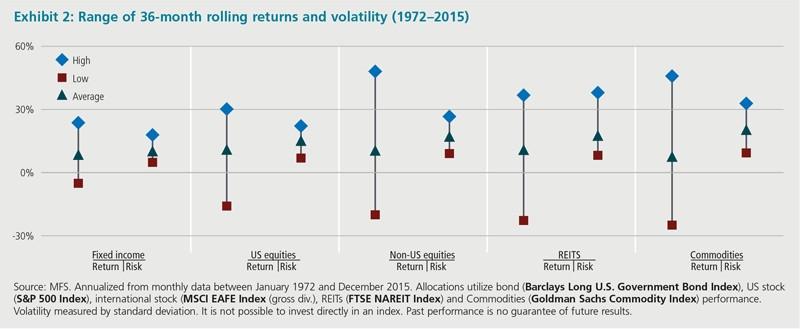 From a fixed income perspective, because this allocation in a target date fund is first and foremost intended to provide ballast to the portfolio and help dampen volatility when equity and other riskier market segments sell off, it's important to have broad diversification, with exposure across geographic, duration and credit quality dimensions. Diversifying broadly can also help dampen the impact of rising interest rates on the portfolio. A fund with only a US aggregate type of fixed income allocation is largely tied to whatever happens in the US interest rate market.

While simple non-diversified fixed income exposures have performed well during the declining interest rate environment, target date funds with limited diversification may not perform as well when US interest rates eventually rise. We believe that broader diversification is prudent and that target date funds should be able to capitalize on areas in which the investment manager can potentially generate alpha and manage interest rate sensitivity. That's particularly important as the fund moves down the glide path and the risk spectrum to a point where fixed income typically becomes a very meaningful component of the portfolio. The chart below uses the profile of our funds to illustrate our belief that a fund should manage interest rate sensitivity by reducing the duration (a measure of interest rate sensitivity) of the fixed income component of the portfolio by moving down the maturity spectrum in the final phase of the glide path. This way, as the fixed income weight increases, the duration of the overall fund does not become excessively large.

Evaluating TDFs — look long
Every target date fund is different. But since they're meant to offer participants a simple investment solution, the best way to evaluate them is to give it time. While it's human nature to look in the rear view mirror to see which target date funds have done well, we suggest looking back further than three to five years. Also consider looking at rolling returns, longer time periods of 10 years or more where available and previous performance in different market environments; otherwise, you're only seeing a bull market rather than a full market cycle— both a bull and a bear. That full view is important, because it shows you how an investment manager handles periods of market volatility — a skill that could make or break a successful retirement outcome.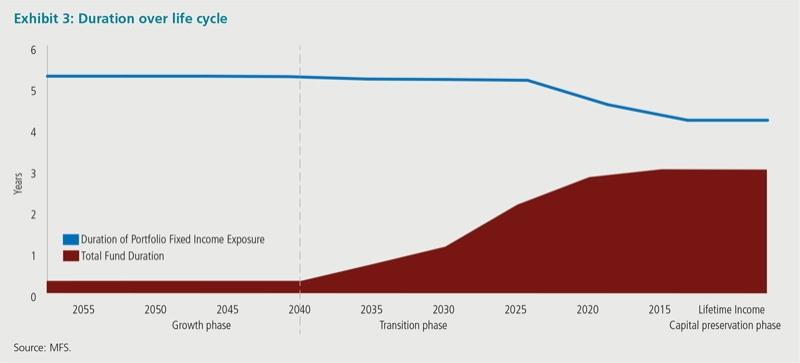 Endnote
1 2017 Target-Date Fund Landscape: Morningstar's Best Practices in Target Date Evaluation
Target date funds may not achieve there objective and/or investors could lose money on their investment. Investors may experience losses near, at, or after the target date. Their is no guarantee of a fund's principal value, including at the target date, or that the fund will provide adequate income at and through retirement.
The views expressed are those of the author(s) and are subject to change at any time. These views are for informational purposes only and should not be relied upon as a recommendation to purchase any security or as a solicitation or investment advice from the Advisor. Unless otherwise indicated, logos and product and service names are trademarks of MFS® and its affiliates and may be registered in certain countries.
Issued in the United States by MFS Institutional Advisors, Inc. ("MFSI") and MFS Investment Management. Issued in Canada by MFS Investment Management Canada Limited. No securities commission or similar regulatory authority in Canada has reviewed this communication. Issued in the United Kingdom by MFS International (U.K.) Limited ("MIL UK"), a private limited company registered in England and Wales with the company number 03062718, and authorized and regulated in the conduct of investment business by the U.K. Financial Conduct Authority. MIL UK, an indirect subsidiary of MFS, has its registered office at One Carter Lane, London, EC4V 5ER UK and provides products and investment services to institutional investors globally. This material shall not be circulated or distributed to any person other than to professional investors (as permitted by local regulations) and should not be relied upon or distributed to persons where such reliance or distribution would be contrary to local regulation. Issued in Hong Kong by MFS International (Hong Kong) Limited ("MIL HK"), a private limited company licensed and regulated by the Hong Kong Securities and Futures Commission (the "SFC"). MIL HK is a wholly-owned, indirect subsidiary of Massachusetts Financial Services Company, a U.S.-based investment advisor and fund sponsor registered with the U.S. Securities and Exchange Commission. MIL HK is approved to engage in dealing in securities and asset management-regulated activities and may provide certain investment services to "professional investors" as defined in the Securities and Futures Ordinance ("SFO"). Issued in Singapore by MFS International Singapore Pte. Ltd., a private limited company registered in Singapore with the company number 201228809M, and further licensed and regulated by the Monetary Authority of Singapore. Issued in Latin America by MFS International Ltd. For investors in Australia: MFSI and MIL UK are exempt from the requirement to hold an Australian financial services license under the Corporations Act 2001 in respect of the financial services they provide. In Australia and New Zealand: MFSI is regulated by the U.S. Securities and Exchange Commission under U.S. laws, and MIL UK is regulated by the U.K. Financial Conduct Authority under U.K. laws, which differ from Australian and New Zealand laws.
This content is directed at investment professionals only.