In Brief
Asset flows into index or passive products have skyrocketed, as many actively managed mutual funds have experienced outflows and underperformance for several years.

Market conditions have favored passive approaches over the past five years, a trend that we believe is a cyclical rather than secular phenomenon.

While a bear market could help produce more investment opportunities for active strategies, it's not a downturn but rather a full market cycle that allows active managers to succeed.

The dispersion of stock prices — when driven by company fundamentals such as growth, profitability and cash flow - is an essential ingredient for traditional active managers.

We believe alpha opportunities are cyclical in nature, and that skilled active managers aligned with the long-term interests of their clients are best-positioned to capture those opportunities over time.
Businessweek predicted the "death of equities" in a 1979 cover story that detailed how some institutional investors replaced stock allocations with nontraditional investments such as precious metals, fine art and even Pizza Hut and Kentucky Fried Chicken franchises after a decade of lackluster returns. While the story might seem provocative to us now, there was little love for the stock market in the 1970s. Stocks were abused that decade by runaway inflation, skyrocketing oil prices and persistently low returns, among other factors. The highest-quality bonds (triple-A rated) yielded upwards of 11% in the 1970s, while equities returned 5.85% on an annualized basis, far below their long-term historical average of 10.42%.
We're seeing similar sentiment in today's markets, but instead of disliking stocks, investors are moving away from traditional active management. More than a few prognosticators have predicted the end of active, suggesting that bottom-up fundamental security selection in particular is antiquated, overpriced and ineffective. Asset flows into index or passive products have skyrocketed while actively managed mutual funds have experienced net outflows for several years.
We think the "death of active" narrative is misguided, just as the death of equities narrative was in 1979. Market conditions in recent years have favored a passive approach, but much like we did in the 1970s, we believe financial markets remain fluid, cyclical and always evolving. While we can't predict the future, we don't think we've witnessed the end of market and economic cycles, nor active management's ability to outperform through them. In this paper, we'll review some of the conditions that have helped passive in recent years — along with some of the cyclical factors that we think provide greater opportunities for traditional active stockpickers over the long term.
Bull market conditions have favored passive
Since the US equities hit rock bottom at the end of the global financial crisis in March 2009, the S&P 500 Index returned 331% cumulatively,[2] generating strong returns for investors with broad market exposure through ETFs or other passive vehicles. This has been one of the longest bull markets in history. The average bull market has lasted five years, but this one is in its ninth year and there are no imminent signs that it's coming to an end. Exhibit 1 shows the length and expansion of bull markets going back to 1932.
Passive managers have responded to the inflow of investor capital by launching thousands of new products over the past decade. There are now more indices tracking various asset classes in the United States than there are publicly traded stocks.[3] Since January 2006, investors have put more than $1.4 trillion into passive vehicles while withdrawing $1.5 trillion from active mutual funds.[4] At the current growth rate, passive strategies would own all listed stocks by 2030.[5]
While these trends have taken shape and accelerated, we think much of the active–passive debate is overblown and misguided. In our view, active and passive can coexist nicely and complement each other in any portfolio. We also believe, however, that active is a critical component of any investment portfolio, especially in the current environment, which features historically low yields and lower return expectations. All of this adds up to investors taking on more risk per unit of return to achieve their investment goals, which makes alpha more important than ever.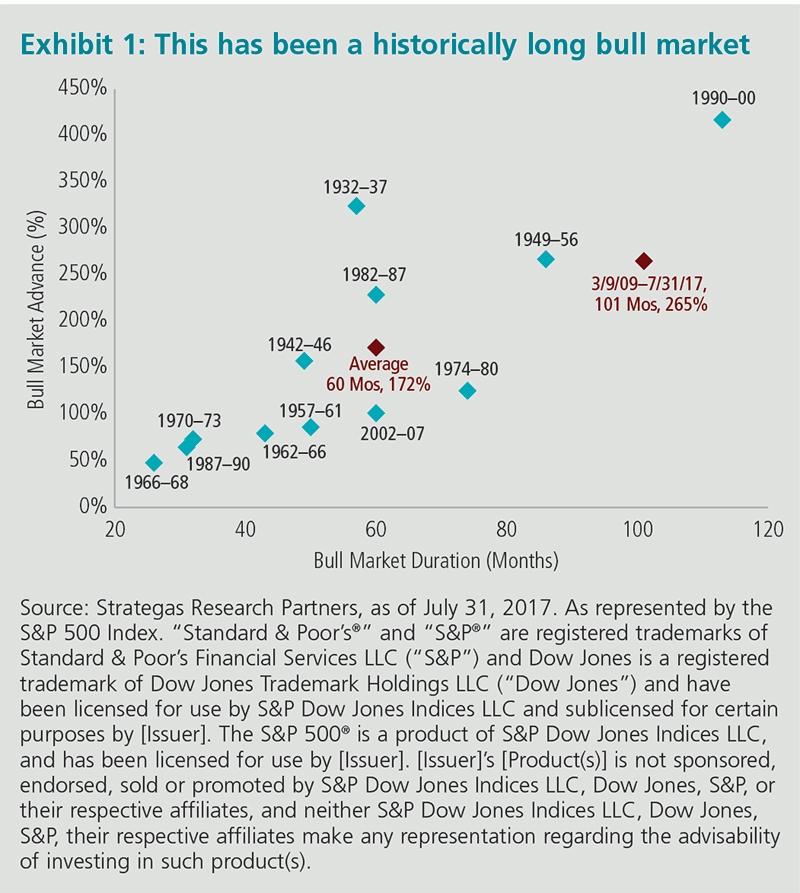 Everyone gets a trophy in these markets
Recent headwinds for active managers have included low volatility and price dispersion. In recent years, the market hasn't generally differentiated between high-quality and low-quality names. Stock prices have generally risen regardless of a company's quality. The market has been handing out participation trophies — companies have been rewarded simply for showing up.
We can see this clearly over the past five years. Historically speaking, high-quality stocks have outperformed low-quality stocks, as shown in the top chart of Exhibit 2. But what's happened over the past five years is that high-quality and low-quality have largely moved in lockstep, as shown in the middle chart of Exhibit 2.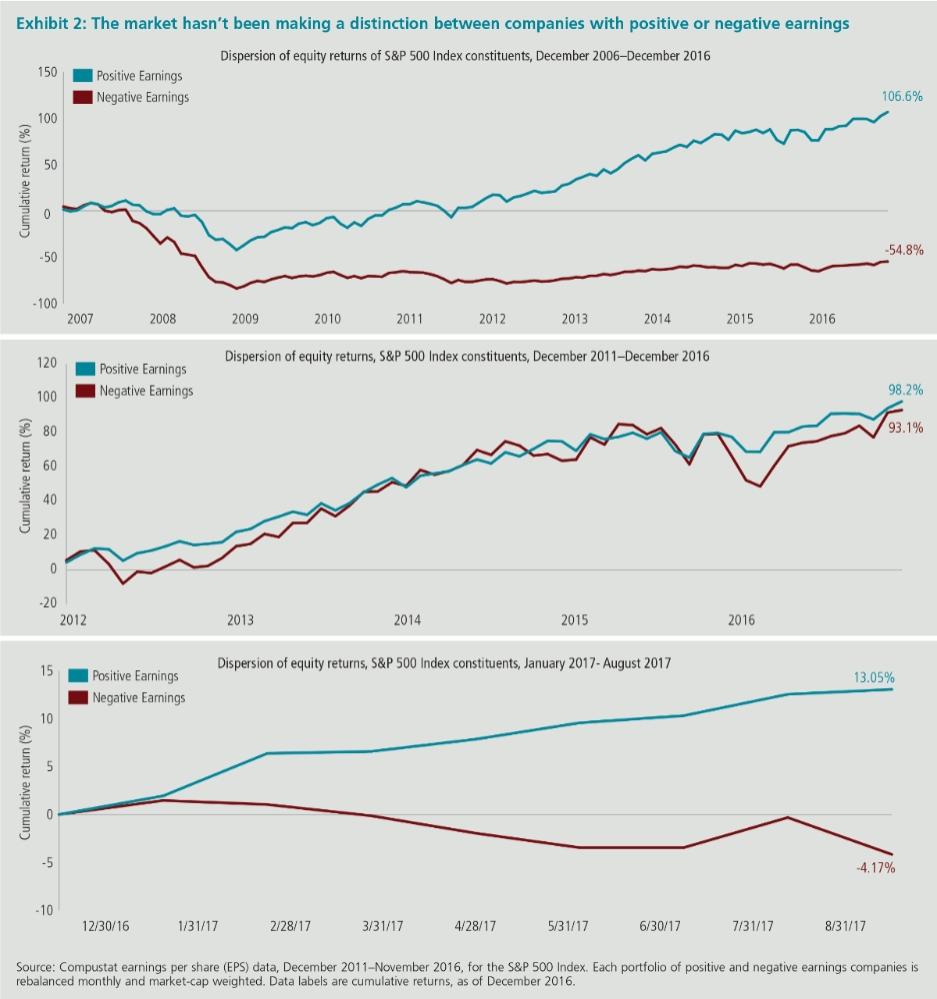 Let's examine what that means at a very high level. Because earnings are an essential ingredient for favorable stock prices, investors expect the stocks of companies with positive earnings to outperform those with negative earnings over time. That is what happened over the last decade — by a wide margin. The collective returns of the negative earners was -54.8% from 2006 to 2016 compared with a 106.6% gain for the positive earners over the same time period. But over the past five years, the negative earners and positive earners have performed similarly. This is why the passive approach has outperformed in recent years, and investors have not been rewarded for favoring one company over another. In other words, it hasn't mattered what you've owned because just owning "the market" via a passive vehicle has provided strong returns. Interestingly, the trend has reversed in 2017 with positive earners outperforming negative earners, through August, as shown in the bottom chart of Exhibit 2.
Why have low quality companies fared so well in recent years? One possible answer is the proliferation and availability of cheap credit, particularly for marginal companies that typically wouldn't have such easy access to capital. Also, corporations have used their ample cash to pay out more dividends and to repurchase record amounts of company stock — about $3 trillion cumulatively since 2009. These actions may have helped lift share prices for many companies, even mediocre one without corresponding contributions from growth, improved margins or sales. These are cyclical phenomena, however, and history tells us that these conditions will eventually fade. When the cheap credit well dries up, we expect some of the lower-quality names to struggle.
We believe company fundamentals like profitability and free cash flow will reassert themselves and patient investors will be rewarded for having conviction in high-quality stocks over long periods of time. That's because over the long term we believe earnings, not price momentum, matter. Companies with strong earnings have greater flexibility to
pay out increase dividends
reinvest in their business
pay down debt
avoid the need for outside funding
survive cyclical industry downturns
weather economic slowdowns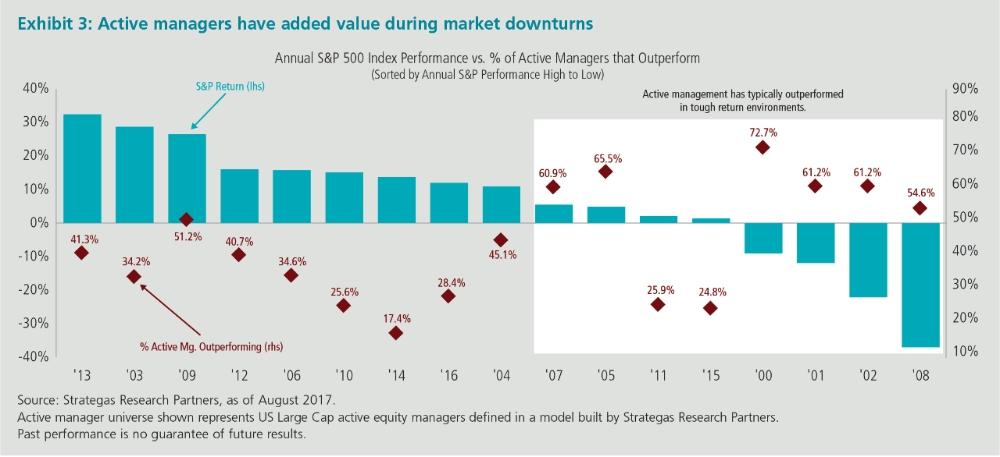 We also believe an investment approach that focuses on companies with sustainable, long-term competitive advantages can help maximize long-term returns. As part of this approach, we believe that the integration of environmental, social and corporate governance (ESG) factors into fundamental research is essential to achieving those returns, as these types of issues often impact the sustainable value of businesses.
Fundamentals still matter
Active management's staunchest defenders often point to performance in down markets. Historically speaking, when markets slide or become more volatile, active has outperformed (see Exhibit 3).
But we don't believe a downturn is required for active managers to deliver alpha. Rather, it is the opportunity to invest through a full market cycle, maintain conviction and allow time for an investment thesis to play out.
The formula for alpha is simple: success = skill × market breadth. In other words, what's required for skilled active managers to succeed is greater market breadth, also referred to as the dispersion of stock prices. We believe dispersion increases when fundamentals such as growth, profitability and cash flow reassert themselves into share prices. There has been much debate over what constitutes skill in active management. For the moment, we will stick to the other side of the equation — dispersion.
Looking at returns over the past 25 years, we have observed that the top-quartile active managers have added value, especially when markets have been more dispersed. As shown in Exhibit 4, top-quartile active managers have outperformed the median active manager by 500 basis points during periods when markets were most dispersed. The outperformance has been much lower when markets were less dispersed.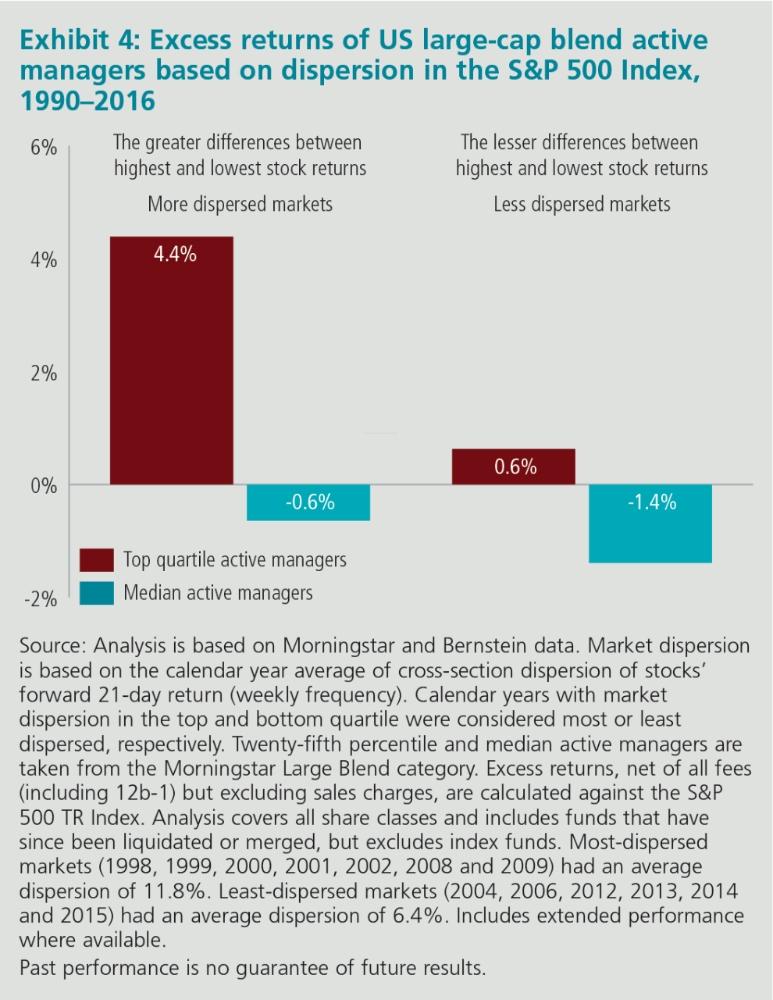 In addition to comparing the returns of positive versus negative earners (as shown earlier in Exhibit 2), another way to look at dispersion is to examine the range of returns for a given index or universe. Looking at the MSCI World Index, for example, we can see how the range of returns between the highest- and lowest-returning stocks has compressed in recent years. In Exhibit 5, we show the six-month average difference of the highest return minus the lowest return for the index — a figure that has remained stubbornly below its long-term average for some time.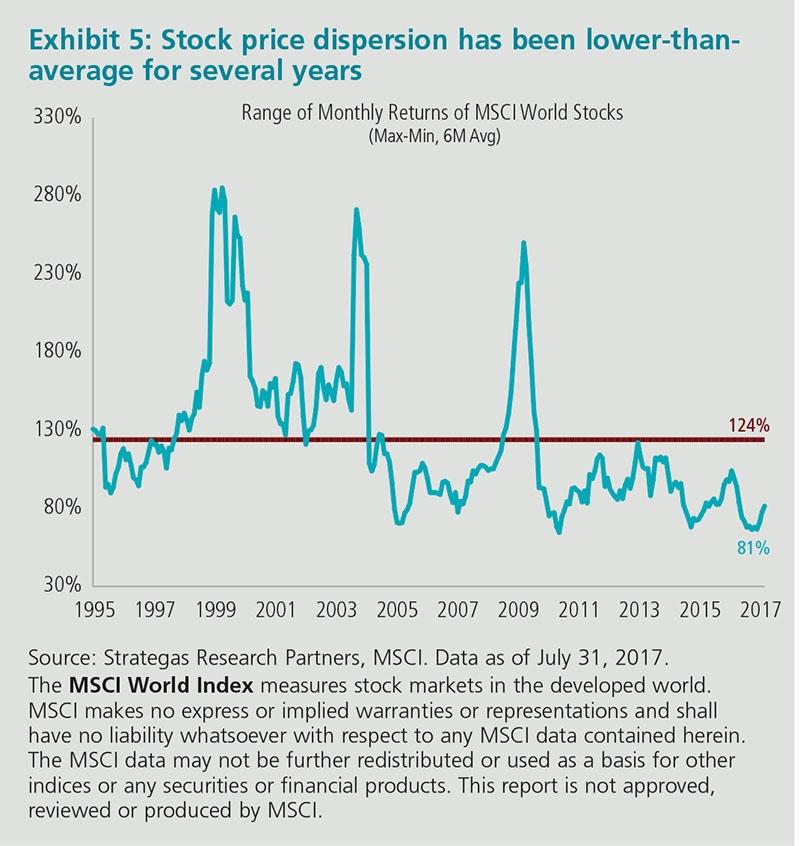 Creative destruction and signs that dispersion is beginning to grow
As we've discussed above, market breadth, or stock price dispersion, is a cyclical factor that ebbs and flows over time. Looking at the markets in recent months, we believe dispersion has been growing, which should help improve conditions for active managers. We're seeing evidence that investors are beginning to differentiate among high- and low-quality stocks in some pockets. Some of the rising dispersion is likely related to a recent acceleration of digitization, creative destruction and the collapse of intellectual property.
Creative destruction, or innovation, has accelerated and threatens to displace major profit pools. The most tangible recent example of this is the growing shift to online shopping and the "retail apocalypse," or the growing number of brick-and-mortar store closings. The share prices in this industry have reflected this trend over the past 18 months, as shown in Exhibit 6. The shift to online shopping — while not new — hit a tipping point in recent months, and investors have taken note.[6] Amazon, the primary online shopping destination for millions of customers, has outperformed the pack over the past year-and-a-half, showing that not all stock prices are moving in lockstep.
While electronic platforms and widespread digitization are destroying intellectual property, the massive inflows into passive investment strategies signal that many investors believe that markets are structurally efficient and that alpha is permanently, not cyclically, elusive. We don't think that anything in life, much less the markets, is linear. We believe future cash flows will migrate to the new owners of intellectual property. There will be winners and losers, and those players who received a trophy during the current bull run will be disappointed when times turn tough. Margins, growth and profits will shift from incumbents to different entities. This is creating multiple alpha levers for active managers. It's not just about spotting the innovators and disruptors, but also avoiding the over-earners that have peaked and at-risk of margin erosion, and investing in companies that can retool and become competitive again.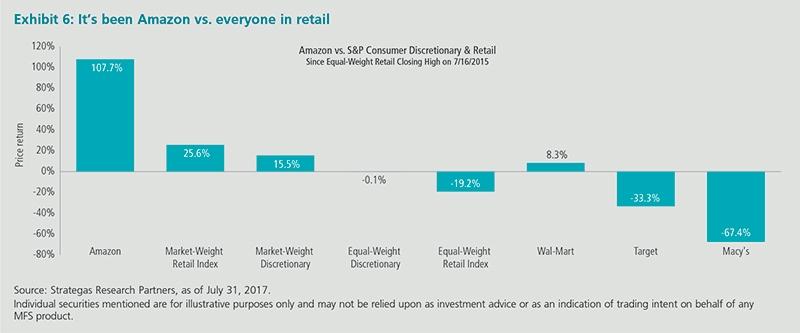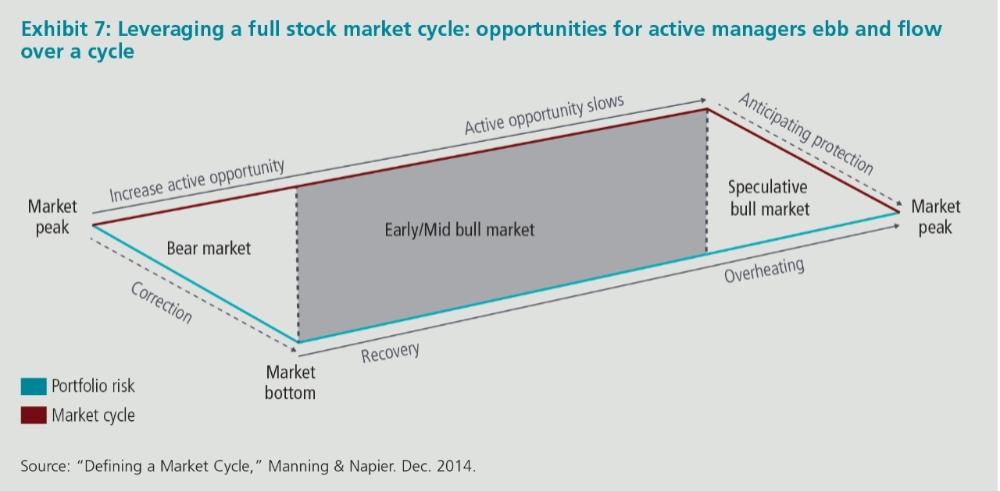 The active cycle
With the benefit of hindsight, we know Businessweek's prediction about equity markets was wrong. A hypothetical $10,000 investment in the US equity market would have grown to $674,470 from August 13, 1979 to July 31, 2017, or 11.73%, annualized.[7] For an investor living at the time, however, the choices must have seemed stark given challenges including massive inflation, the end of the gold standard, oil embargoes and so on.
One thing we can learn from experiences like these is that cycles are indeed real and they can impact markets and investor thinking in significant ways. In our 2016 investor sentiment survey, most institutional investors and advisors acknowledged that full market cycles last 7 or more years.
At least 70% of the investors we surveyed, however, would only tolerate underperformance for three years or less.[8] Since active conditions change through a full market cycle, as shown in Exhibit 7, making portfolio changes in as little as three years can lead either to missed opportunities or a failure to let the best insights from a manager mature and pay off.
The trouble is, with the industry's push toward short-termism has come an unwillingness to tolerate underperformance. This is true despite the fact that even skilled managers who outperform over the long term routinely go through periods of underperformance. Looking at the growth of Berkshire Hathaway Class A shares as shown in Exhibit 8, for example, we can see how a long-term mindset bears fruit for investors willing to tolerate periods of short-term underperformance.
It is precisely an investor's ability to tolerate these periods of underperformance — what we call countercyclical courage — that may potentially lead to more value creation and a better investment outcome over time.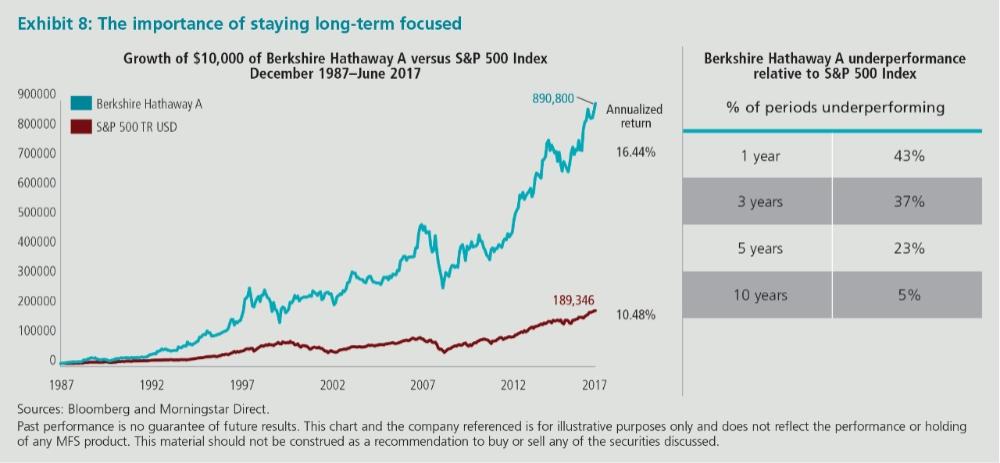 Skilled active management: Waiting out a cycle for the best opportunities to mature
Investment alpha, like the markets, is cyclical, which is why it's in an investor's best interest to be patient and wait for a thesis to bear fruit. Markets tend to be irrational over short periods of time and prices can overreact to irrelevant factors such as elections and the weather. These events typically have little material impact on a company's fundamentals or long-term growth prospects. Eventually, at some point in a cycle, prices reflect the things that really matter — a company's growth, cash flow and earnings.
That's why we think skilled active managers are best aligned with an investor's long-term goals.[9] We believe skilled active managers are those who can demonstrate conviction through high active share and long holding periods, add value in volatile markets and collaborate on investment decision making. Skilled active managers can avoid taking full market risk, which is passive's downfall in a declining market. Skilled active managers can exploit market inefficiencies, actively selecting securities and intentionally taking on certain risks is an attempt to create more long- term value. Passive managers can only follow the market trends up and down.
We believe having this approach through a full cycle is essential to capturing the best investment opportunities, while also managing risk and seeking to avoid companies that are in decline, because timing market peaks and valleys is extremely difficult. We've seen historically that some companies outperform their peers over full market cycles, but outperformance can take longer than anyone anticipates. We think managers who are long-term focused — and who have the conviction to source multiple best ideas wherever they arise — are best positioned to potentially improve returns over long periods of time.
Endnotes
1 Source: Morningstar. Annualized total return of the S&P 500 Index from January 1, 1970–December 31, 1979. The S&P 500 Index measures the broad US stock market.
2 Source: Morningstar. Cumulative return of the S&P 500 Index, March 9, 2009–August 7, 2017.
3 Data provided by Strategas Research Partners via Bloomberg LP and Sanford C. Bernstein, as of March 31, 2017.
4 Source: Strategas Research Partners, as of May 2017.
5 "The hidden dangers of passive investing," Financial Times, May 30, 2017.
6 For more on this topic, please refer to "Tipping Point? How Apparel Inflation Could Accelerate the Decline of At-Risk US Retailers," by MFS equity research analyst Maile Clark, CFA.
7 Source: Morningstar, using S&P 500 index daily total return data. Past performance is no guarantee of future results. It is not possible to invest in an index.
8 Source: 2016 MFS Active Management Sentiment Study: Global Insights. Survey methodology: MFS Investment Management partnered with CoreData Research, an independent third-party research provider, to design and field a study among financial advisors, institutional investors and professional buyers in North America, Latin America, Europe and Asia-Pacific. The sample totaled 845 respondents, broken out as follows: 500 financial advisors, 220 institutional investors and 125 professional buyers. To qualify, study participants had to be responsible for the management, selection or oversight of retail investor, pension, endowment or foundation assets or their firm's investment platforms. The survey was conducted August 1–31, 2016. MFS was not identified as the sponsor of the survey.
9 We believe skilled active managers are those who can demonstrate conviction through high active share and long holding periods, add value in volatile markets and collaborate on investment decision making.
Keep in mind that all investments carry a certain amount of risk including the possible loss of the principal amount invested.
The views expressed are those of the author(s) and are subject to change at any time. These views are for informational purposes only and should not be relied upon as a recommendation to purchase any security or as a solicitation or investment advice from the Advisor.
Unless otherwise indicated, logos and product and service names are trademarks of MFS® and its affiliates and may be registered in certain countries.
This content is directed at investment professionals only.
38660.1