Our analysis of historical data finds a critical link between corporate earnings and stock price performance and highlights the importance of earnings over a full market cycle.
Few investors would argue against the importance of corporate earnings to equity performance — earnings have been the fuel that keep a company's stock running over the long term. A company that is making money can pay out dividends, buy back outstanding shares, or reinvest back into their business to improve future prospects. Each of these actions can have positive implications for a company's equity performance. However, for even the best companies, short term earnings challenges can exist — the company may be expanding rapidly, in a cyclical downturn, or restructuring its business. In fact, some of the most intriguing investment opportunities can be found in companies that are being heavily discounted by the market because of short term earnings challenges. But ultimately, investors will expect earnings, without them, they are truly running on empty.

Over the long term, companies with positive earnings outperformed those with negative earnings. Exhibit 1, illustrates the long term cumulative return of positive earners, which dramatically outperformed the long term cumulative return of negative earners.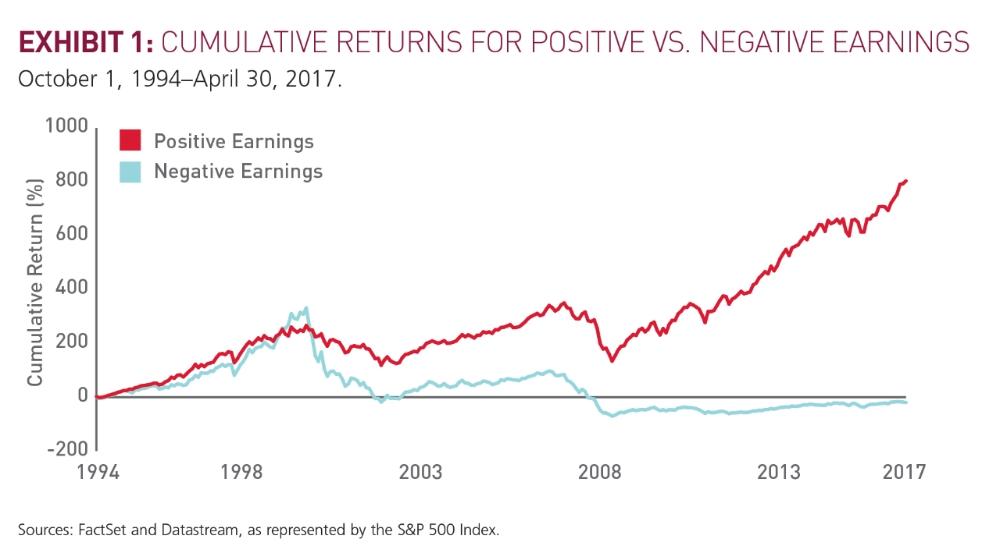 Performance Dispersion across Bull and Bear Markets
However, there are distinct periods where there is little performance dispersion between positive and negative earners. Highlighted in the gray rectangles in Exhibit 2 are periods when there was a very little performance dispersion between companies making money and those losing money. During these periods, investors were not differentiating between the two groups.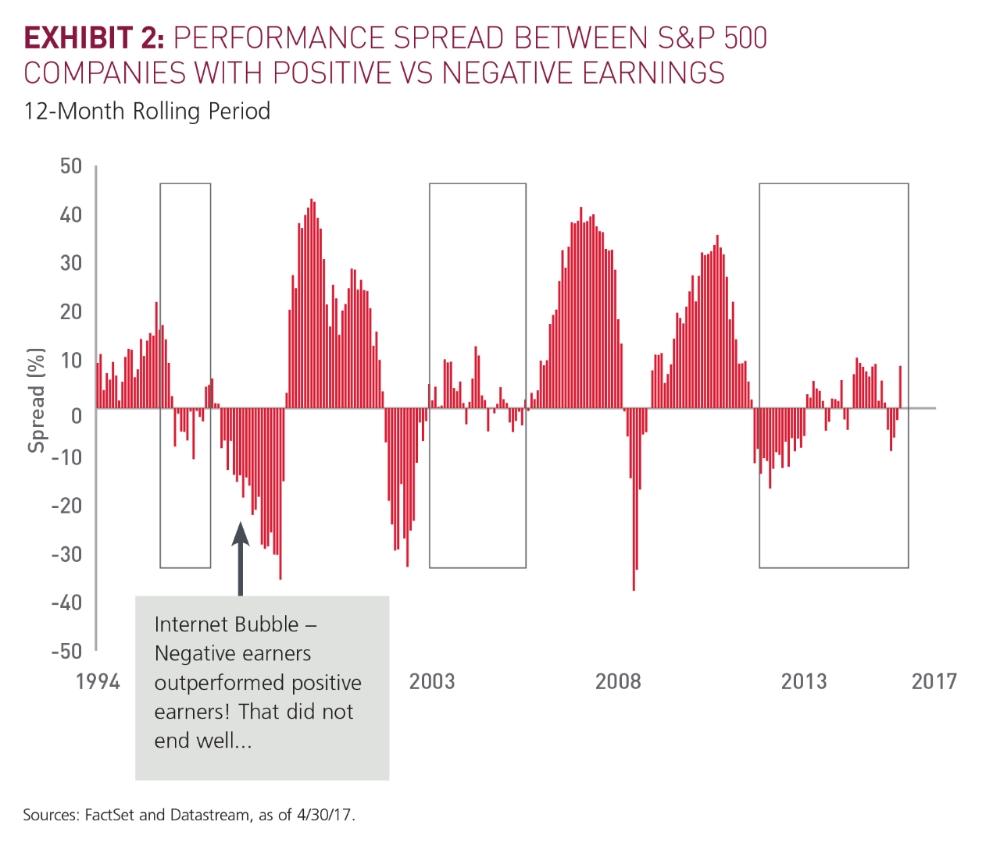 So, what can explain this market phenomenon? There are several possible reasons including low yields across other asset classes, the popularity of passive, ETF flows, and low market volatility. However, the foundational reason may simply be investor behavior. During times of market strength, investors are more likely to chase momentum and view the broad market through a lens of optimism. During times of market stress, investors want to own companies
making money which have the ability to survive a market downturn and may indeed capture market share from weaker companies during this time.
To test this thesis, we analyzed the performance dispersion between the two groups, positive and negative earners, during the bear and bull markets. The constituents of the S&P 500 Index were broken up into the two groups, and their performance measured over 22 years.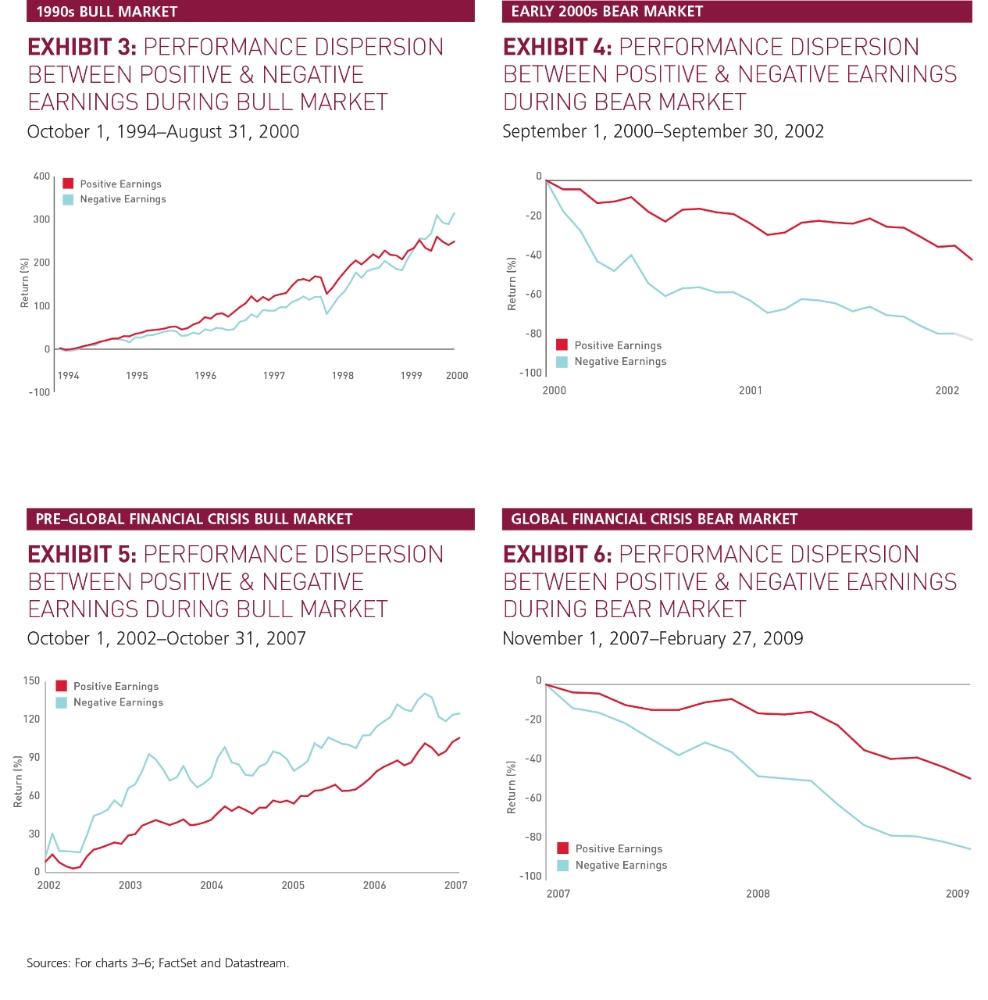 As shown in Exhibits 3 through 6, during the bull markets of the 1990s and 2002–2007 time periods, you can see a similar pattern with little performance dispersion between the two groups. In fact, negative earners were rewarded over positive earners during the internet bubble and during the 2002–2007 period. However, during the ensuing bear markets that followed both bull markets, the positive earners dramatically outperformed the negative earners. An important takeaway from this is that investors placed a much higher value on earnings during a bear market than they did during a bull market.
Where are we now?
The period from December 2011 through April 2017 illustrates that we are again in a period of extremely low dispersion between positive and negative earners. As we enter our ninth year of the business cycle, there are several cautionary signs. Weak economic growth and low inflation coupled with high valuations, a tightening US Federal Reserve and high amounts of corporate debt should get the attention of even the most ardent bull. When and how will this current bull market end? While that's impossible to know, it's clear that earnings have had a clear link to performance across different market environments.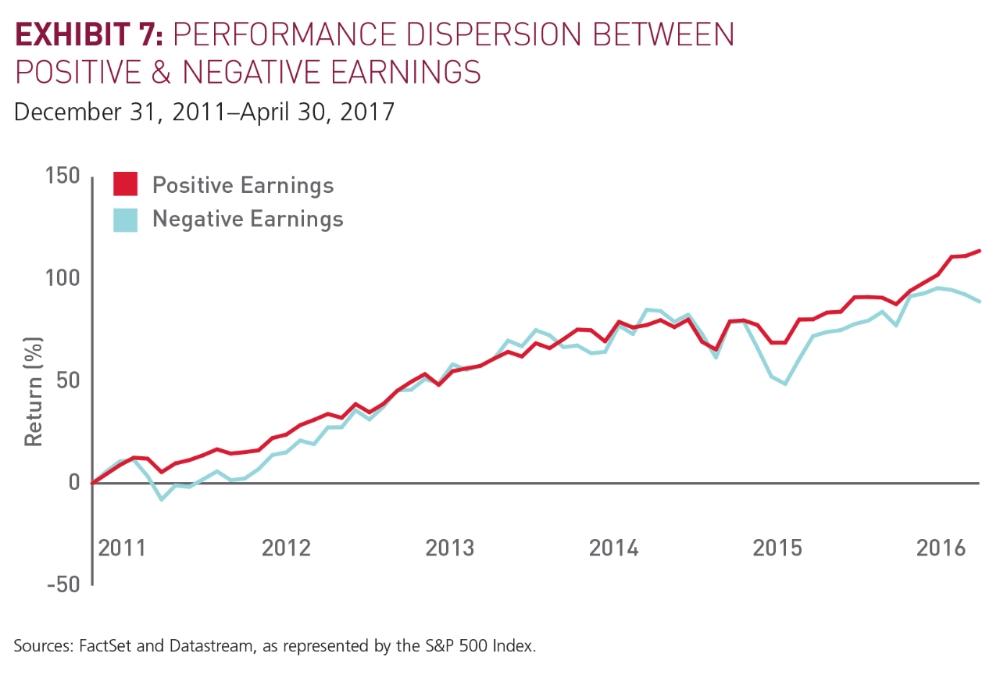 Focus on the Long Term
So how should investors handle the temptation to buy the market cheaply through a passive strategy and ignore the earnings of the underlying companies when all stocks seem to be performing well? We believe the answer is to focus on a long term investment horizon. The value of this approach can be seen in the historical performance of positive earners over negative earners across cycles on a rolling seven year basis.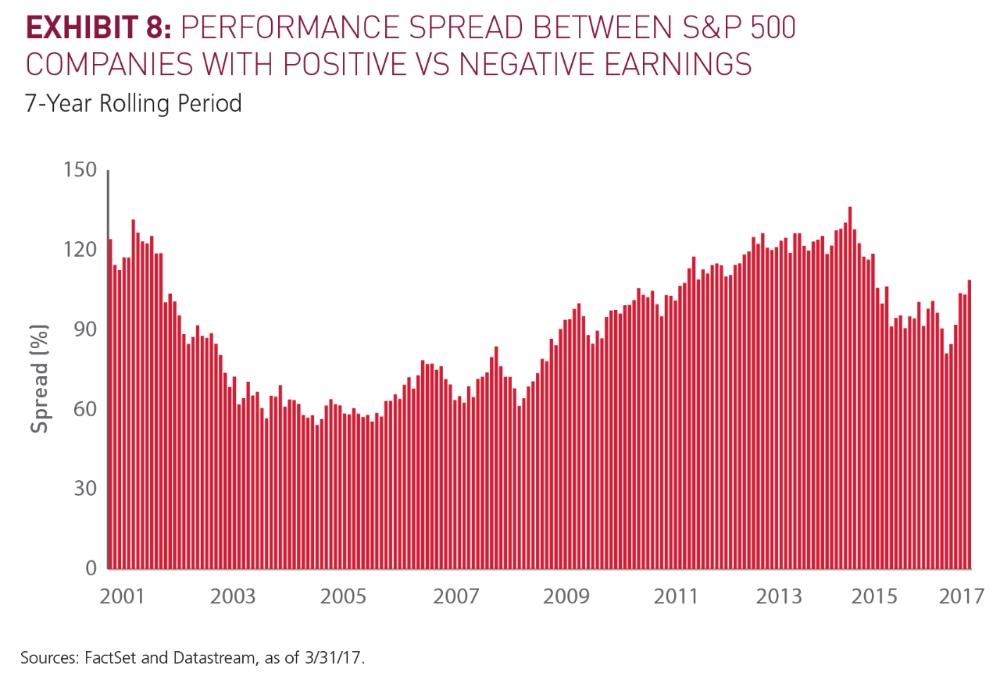 There was not a single rolling seven year period where it was even close — the positive earners always outperformed the negative earners. This is in stark contrast to the results that displayed performance dispersion over short time periods as seen in Exhibit 2, further highlighting the importance of maintaining a long term investment horizon.
While market momentum may be currently pushing all stocks higher, some of those rising stocks may already be running on empty.
The views expressed are those of the author(s) and are subject to change at any time. These views are for informational purposes only and should not be relied upon as a recommendation to purchase any security or as a solicitation or investment advice from the Advisor.

Unless otherwise indicated, logos and product and service names are trademarks of MFS® and its affiliates and may be registered in certain countries.
This content is directed at investment professionals only.