Authored by: Kristen E. Colvin, Peter A. Delaney, Shawn A. Cohen, Ross Cartwright & James Lindsay
In Brief
With defined contribution schemes fast becoming the primary retirement savings vehicle around the globe, there has been an increase in the adoption of "default" structures to ease the investment decision making burden of individual members and participants.

Regulatory initiatives around the globe, such as the Qualified Default Investment Alternative (QDIA) regulations in the US in 2007 and the Australian Stronger Super Reforms in 2011, have directly impacted flows into default strategies.

Most default strategies adopted around the world are diversified asset allocation portfolios, but their structure varies from region to region, with lifestyle strategies the most popular in the United Kingdom, target date funds the most popular in the United States and increasingly in Canada and balanced strategies the most popular in Australia.
Over the past decade, global defined contribution (DC) assets have grown at twice the rate of defined benefit (DB) assets.1 With DC pensions fast becoming the primary retirement savings vehicle around the world, this is not surprising; however, it does highlight the reality that individuals are now largely responsible for making saving and investing decisions. Fortunately, features such as automatic enrollment and compulsory savings in some countries are helping to get more individuals enrolled in schemes and contributing at a meaningful level. From an investment perspective, many countries have adopted "default" investment solutions designed to simplify investment decision making for retirement savers.
While the utilization of default solutions is a global trend, there are significant differences in the types of defaults used around the world. This paper provides a landscape overview of default solutions, seen through the lens of four markets at varying points along the journey from DB to DC: the United States, the United Kingdom, Canada and Australia (Exhibit 1). Specifically, we address the role of legislation in the widespread adoption of default solutions, the evolution of default strategies and differences in asset class exposure from country to country.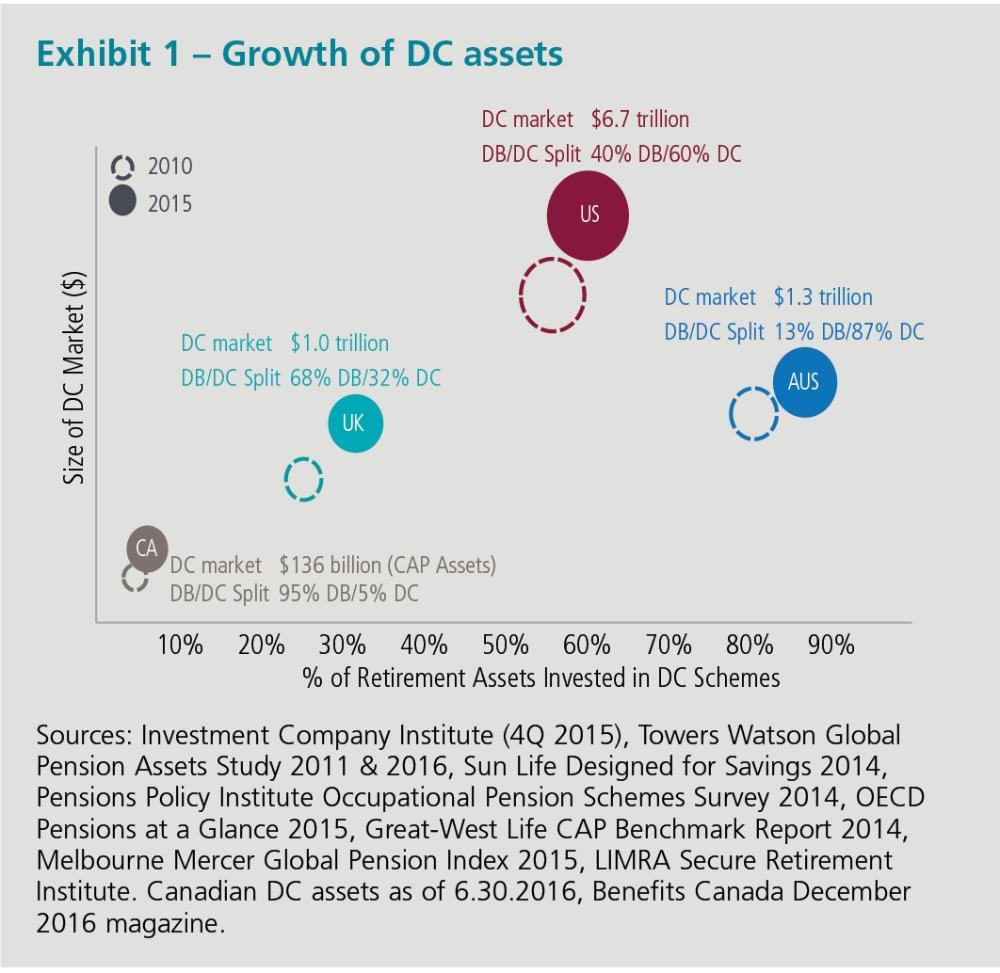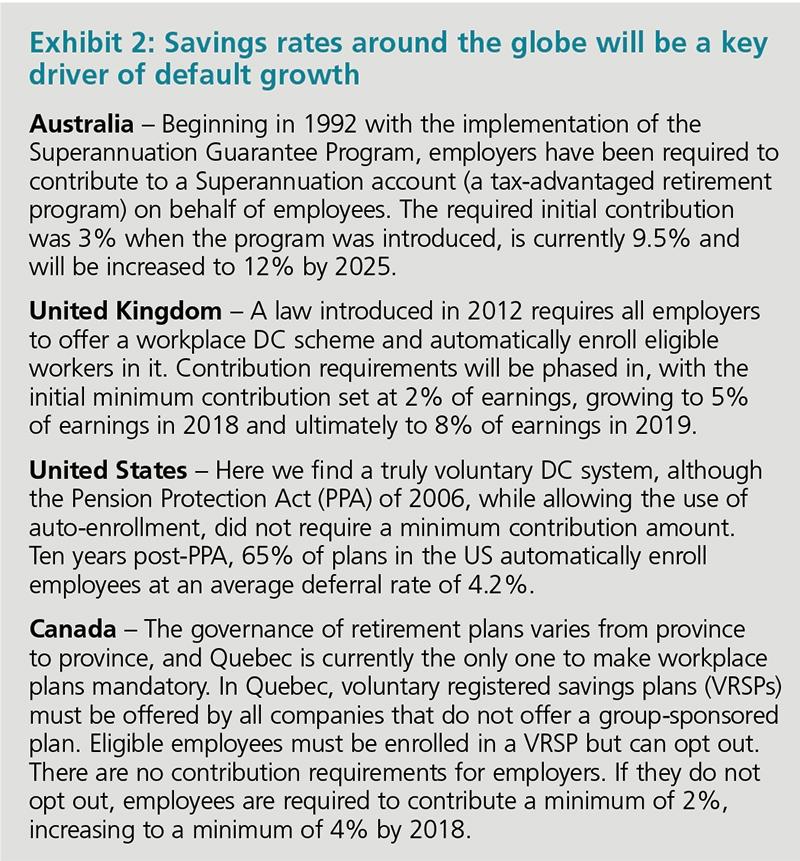 Legislative impact
The future success of DC-based retirement systems relies on adequate savings rates and appropriate investment allocations. While this paper examines default solutions and their role in improving investment allocations, we cannot ignore the reality that savings rates are a big driver of the growth of both DC pensions and assets invested in defaults. Australia and the UK have taken relatively direct approaches to encouraging DC savings when compared with the US and Canada (Exhibit 2). Australia is the only country in which saving for retirement is truly compulsory. Australia's mandatory "Superannuation Guarantee" program was created in 1992, and currently requires employers to contribute 9.5% of earnings to a DC retirement plan for eligible employees. In the UK, autoenrollment began in 2012 and will be fully implemented by 2018. Under the UK's auto-enrollment provision, all employers must automatically enroll eligible employees in a DC retirement scheme while also allowing them to "opt out" of it. In the US there are no mandatory requirements when it comes to saving in a DC pension. In Canada, while there is no national mandatory scheme, one province — Quebec — has a mandatory scheme with a participant opt-out provision.
Default investment strategies play a critical role in DC pensions, offering an investment strategy for participants or members who either lack the necessary expertise to make investment decisions or fail to make an investment election on their own. Since most participants or members fit into this category, it's not surprising to see a significant portion of DC assets invested in default investment strategies. For example, in the UK, 78% of member contributions are invested in default strategies, and that number could grow to more than 90% by the mid-2020s.2 In Australia, 80% of workers have their compulsory superannuation contribution allocated to a default superannuation fund, and it is estimated that in the US default strategies will attract more than 60% of DC plan contributions by 2018.
Many factors can impact the adoption of one type of default over another, but quite often legislation is a driver. Exhibit 3 is a timeline of key regulatory initiatives in each region that have significantly impacted flows into default strategies.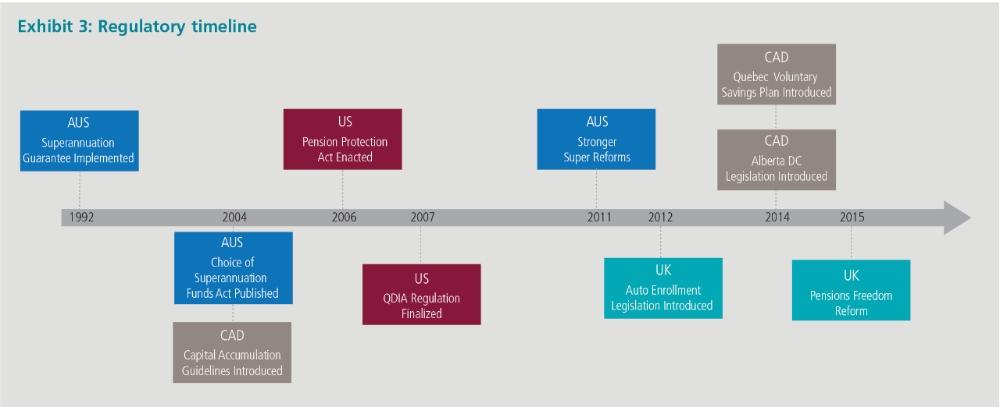 The 2007 implementation of Qualified Default Investment Alternative (QDIA) regulations in the US is perhaps the best example of a country identifying specific strategies eligible for default contributions. Prior to the QDIA regulations, DC assets were typically defaulted into capital preservation strategies such as money market or stable value funds. The QDIA regulations identified three types of investment strategies that could be used as long-term defaults — target date funds (TDFs), managed accounts or a balanced fund that takes into account the characteristics of employees as a whole population (rather than as individuals). By choosing one of the three eligible defaults, plan sponsors are afforded a safe harbor (legal protection) from fiduciary liability for investment outcomes.

A more recent example of legislation focused on default investments is the Australian Stronger Super Reforms. Announced in 2011 and effective in January 2014, the Stronger Super Reforms required employers to allocate default contributions to an authorized "MySuper" product. MySuper products must comply with a number of provisions, including some related to the type of investment strategy to which contributions are allocated. Investment strategies can include a single diversified option (i.e., a balanced fund) or a life stage investment option (i.e., a target date/lifecycle strategy).
As default strategies continue to gather assets and increase in popularity, so too will their role in driving retirement outcomes for workers around the world.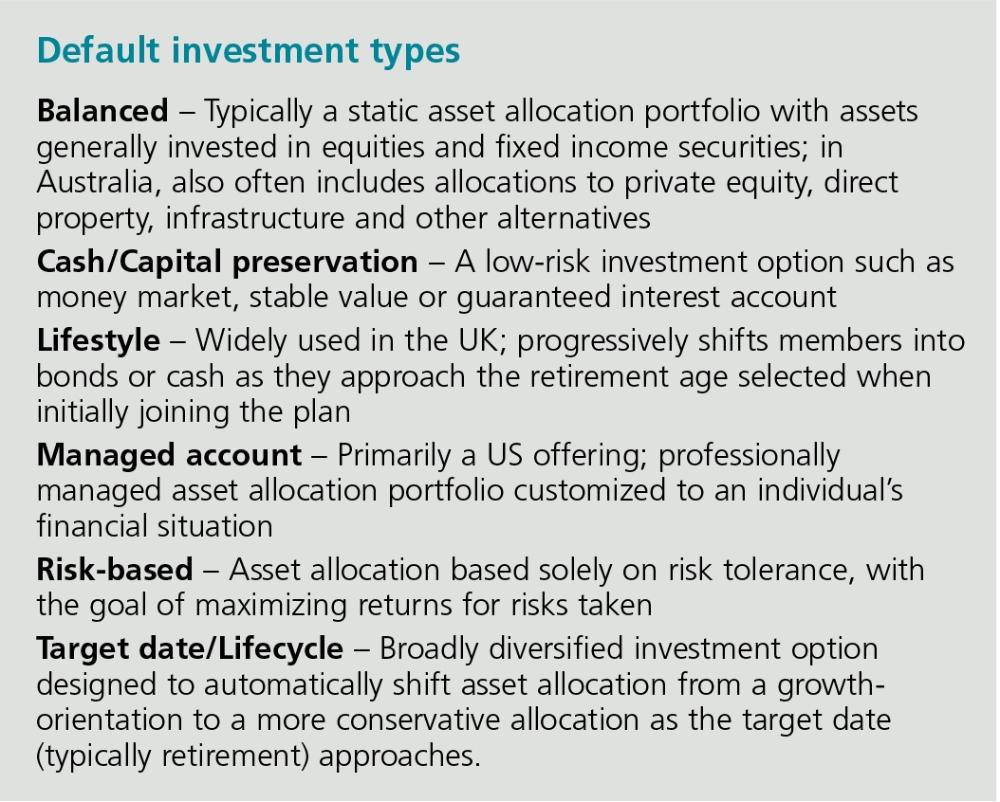 Types of default structures and asset class exposures by country
Default strategies are generally well-diversified asset allocation portfolios, although their composition and implementation vary significantly country to country. As illustrated in Exhibit 4, there is wide variation — based on asset flows into or out of each type — in the types of default strategies adopted and their popularity.
Australia
Balanced strategies have historically been the most widely used default solution in Australia, especially for industry funds. Generally, the asset allocation is determined by a superannuation provider and is typically comprised of 60%–75% growth assets (i.e., equity and property) with the balance invested in more defensive, lower-risk assets. Relative to balanced strategies in other countries, Australian balanced funds often include more meaningful allocations to asset classes such as private equity, infrastructure and alternatives (i.e., hedge funds and absolute return strategies). Notably, superannuation investments in infrastructure have been encouraged by the Australian government and, as of January 2014, superannuation funds had about a 5% allocation committed to infrastructure (both equity and debt). Exhibit 5 below demonstrates the evolution of Australian balanced funds over the past 15 years.
Two additional areas of the Australian default market that are growing significantly include lifecycle (or target date) solutions and self-managed super funds. Lifecycle investment strategies have been widely adopted by the retail segment of the Australian retirement market. Like the target date strategies broadly used in the US and Canada, these strategies automatically adjust members' asset allocations as their circumstances (primarily age) change. With the recently implemented MySuper regulations, the use of lifecycle strategies is expected to continue growing. Another fast growing segment of Australia's retirement system is selfmanaged super funds, which currently represent 29% of the $2.1 trillion superannuation pool.6 With these funds, individuals are responsible for making investment decisions and complying with super and tax laws. A self-managed super fund is maintained for the sole purpose of providing retirement benefits to members or their dependents.

Canada
Default structures in Canada have transitioned from capital preservation strategies (guaranteed interest accounts and money market strategies) to TDFs, for which there are approximately 14 providers and 17 fund suites. While the transition has been predicated on learnings from the US, we now see several provinces prescribing TDFs as potential defaults. Representative data from Canada show default structure use stands at 16% money market, 11% balanced, 15% target risk, 55% TDFs and 2% other structures, including guaranteed interest accounts (GIAs) and bond funds. The new provincial legislation should drive even higher growth in TDF assets in Canada. Looking at the evolution of TDFs in Canada, we have seen significant decrease in the home-country equity bias and a more moderate decrease in domestic bonds in favor of global equity and bond allocations. Allocations to alternative asset classes, including listed and direct real estate and infrastructure, have also replaced some domestic assets.
United Kingdom
For the UK, the primary default structure is the lifestyle fund, which invests in several underlying funds that shift from growth to lower-risk investments as retirement approaches. The typical glide path includes an allocation to global equities for the growth phase, and then, perhaps 5 to 15 years out from retirement, a decrease in the equity exposure and an increase in the exposure to less risky funds such as multi-asset diversified growth funds, bonds or cash. Diversified growth funds, which often help to reduce volatility while aiming to produce equity-like returns over the medium to long term, are used as underlying funds in many lifestyle structures. These funds invest in assets with returns that have historically had a low correlation to equities or bonds, including commodities, private equity, infrastructure and hedge funds.
In April 2015, the British government introduced a new reform referred to as "Freedom and Choice," effectively changing the tax rules to provide DC members greater access to their pensions. Members are no longer forced to purchase an annuity. The new freedoms allow DC members to
Leave the pension pot untouched

Purchase an annuity

Take an adjustable income (drawdown product)

Take their whole pension pot as a lump sum or series of lump sums

Take a combination of the above
United States
In the US, we have seen a significant transformation in default options since the passage of the Pension Protection Act in 2006 and QDIA regulations in 2007. Prior to 2007, the most common default options were capital preservation strategies (i.e., stable value or money market) or risk-based/balanced funds. As of June 2017, more than 85%8 of plans use TDFs as their default strategy, with the remainder using a mix of capital preservation funds, balanced funds and managed accounts. Over the past few years, TDF asset class exposures have shifted from focusing primarily on domestic and international stocks and bonds to increases in REITS, TIPS, commodities and

niche-fixed income asset classes (i.e., high-yield and EMD). More recently, target date strategies have contemplated investments in more institutional asset classes such as private equity, hedge funds and other liquid alternatives.
The demand for TDFs has pushed the growth of these products to roughly 50 prepackaged funds available in June 2017.9 But although 70% of plans used their recordkeeper's proprietary TDF in 2011, now only 34% of plans do so. As plans revisit their TDF offering, some, especially those with total plan assets of more than $1 billion, have opted to build their own "custom" target date solutions (representing 17.1% of plans in 2015).
To get a broader sense of what the underlying asset class exposure of default strategies looks like across countries and regions, see Exhibit 6. While exposures vary around the globe, one common theme is to incorporate more institutional asset classes in default structures.
This overview of the global default structure landscape provides a context for key insights based on what we learn from the evolution of these strategies around the world. With DC plans continuing to replace DB plans as the retirement vehicle of choice, we expect to see further changes in default structures. The drivers of change will likely be those in play over the past decade, which include the following:
Regulatory shifts geared toward protecting the best interests of participants or members who now shoulder more of the responsibility for their retirement investment and saving decisions

Asset allocation changes designed to simplify investment decision making and improve retirement outcomes across employee populations

Asset class exposure variations aimed at capturing different sources of return, particularly among what are considered more institutional asset classes
For each of these drivers, the dialogue is ongoing. Working with DC plans across the globe, MFS is an active participant in these conversations. As a follow-up to this default landscape discussion, MFS will share periodic insights on best practices for default structures and lessons learned from around the world. Our first set of insights, to be published shortly, will cover the measurement of a default structure's success, risk management, investing for social good, the role that default structures might play in transitioning participants or members from accumulation to decumulation and the creation of retirement income.
Endnotes
Willis Towers Watson, "Global Pension Assets Study 2017."
Pensions Policy Institute, Briefing Note 73, "Defined contribution default funds and investment governance," March 2015
Australian Government, The Treasury, "Stronger Super," (https://strongersuper.treasury.gov.au.).
Cerulli Associates, "U.S. Defined Contribution Distribution 2016: Engaging the Boutique DC Consultant in the Mid-Sized DC Plan Market."
PwC Australia, "Investing in Infrastructure: International Best Legal Practice in Project and Construction Agreements," January 2017.
ABC News, "Self-managed super funds still providing smaller returns than APRA regulated funds: ATO," 21 December 2016.
Sun Life Financial, "Designed for Savings, 2016."
Callan 2017 DC Trends Survey, Q1 2017.
Morningstar 2017 Target Date Funds Landscape (April 2017).
The views expressed are those of the author(s) and are subject to change at any time. These views are for informational purposes only and should not be relied upon as a recommendation to purchase any security or as a solicitation or investment advice from the Advisor.
Unless otherwise indicated, logos and product and service names are trademarks of MFS® and its affiliates and may be registered in certain countries.